Terminal 4 Fort Lauderdale Airport map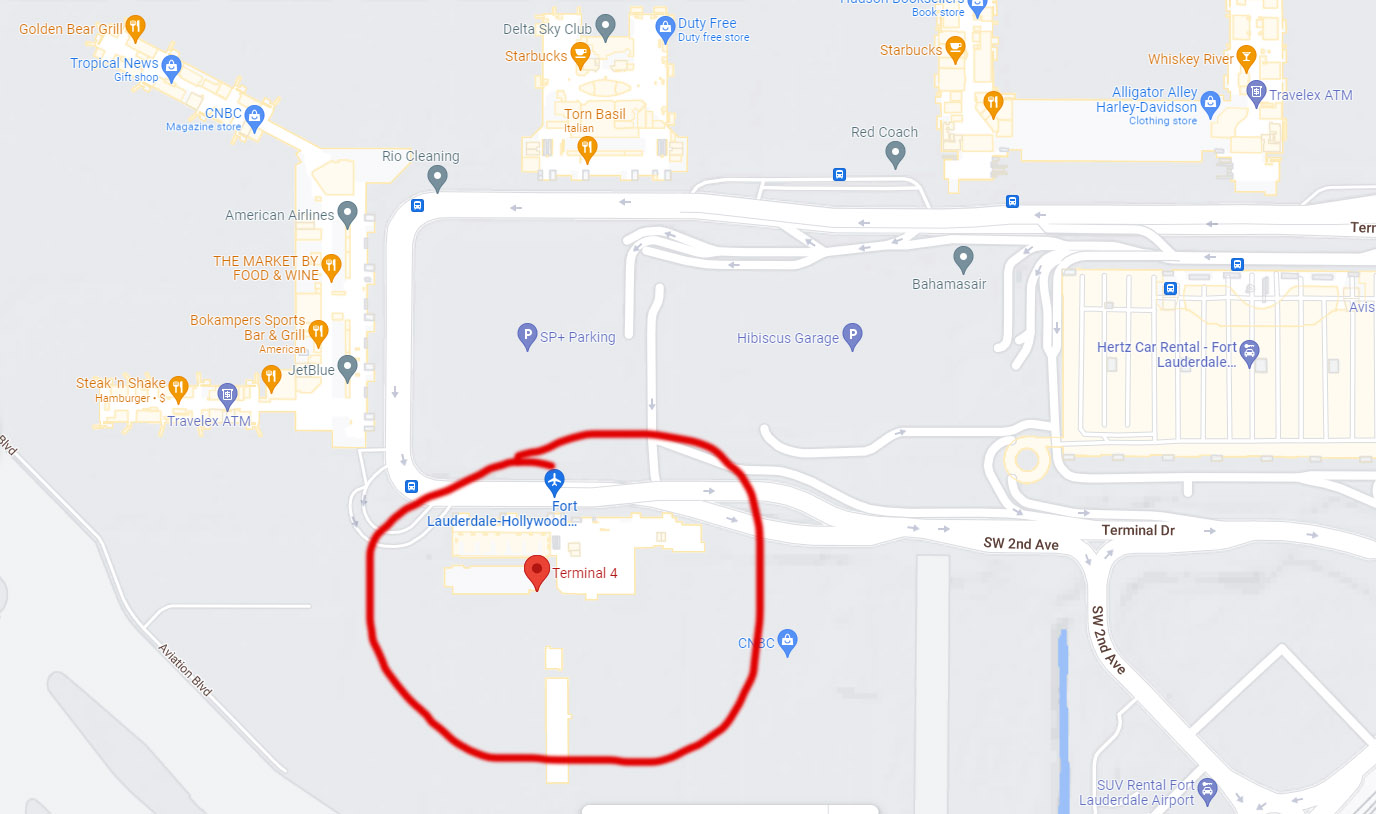 FLL Terminal 4 is located in the south part of the airport and is often called International. According to the color grade, the building belongs to the Green color.
The building hosts Avianca, Caribbean, Spirit, and Air Transat Airlines. For the tourists who want to decide on the travel route, there is a tour agency Parqueo del Aeropuerto.
All building is divided into Concourses G and H. All flights operate from the G sector which counts for G1-G6 and G9-G14. The H sector earlier hosted H1-H10 gates but was rebuilt into the concession hall.
All international flights use G1-G4 boarding gates.
The building is separated into two levels.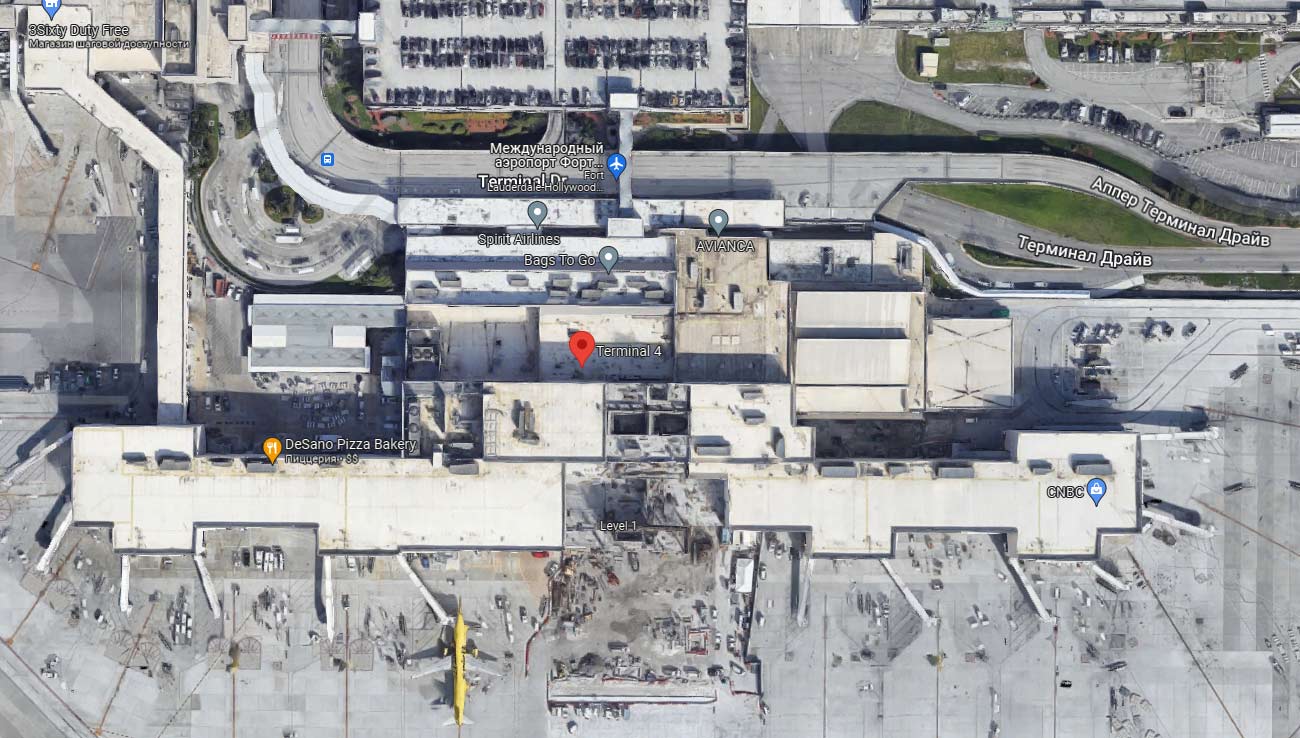 Level 1
It is represented by the Arrivals hall and the Baggage Claim area.
Level 2
It hosts the Departure Hall and Check-In.
The more detailed location of each area can be found on the Fort Lauderdale airport terminal 4 map.
Baggage Wrapping and Storage
For passengers who want to secure their bags, there is an area for the baggage wrapping service. Before the flight departure, passengers can wrap their luggage just for $15.00 for 1 bag.
Service hours: 05:00 am to 09:00 pm (daily).
For further information about Terminal service, passengers can contact an airport department: +1 954-359-5505.
The luggage storage department is located near the Spirit service office.
Service hours: 09:00 am to 05:30 pm (Friday-Monday).
Priority Pass Service
Terminal 4 opened a Kalik Kafe for the special membership holders that have special discounts to visit a VIP lounge.
Priority Pass is a special program that provides travelers with comfortable lounge sits in airports or restaurants that count over 1300 places. Benefits include access to food, conference rooms, showers, and SPA.

Transfer between Terminals
All passengers can find shuttles to move from Terminal 4 Fort Lauderdale to each of the buildings and towards the Rental Car Center.
The shuttle bus parking lot is located at the lower level.
Service hours:
Shuttles between terminals – 6 am to 9 pm (daily)
Shuttles between terminals and Rental Car Center – 24/7.
The Garage Tram is available from the lower level of the Palm and Hibiscus parking lots. Tram operates 24/7.
Restaurants and Food
Terminal 4 Fort Lauderdale Airport locates a variety of multinational restaurants and food shops to have a snack for people with different taste preferences:
DeSano Pizza Bakery;
Casa Noble;
Café Siena;
Casanava;
Kafe Kalik;
Cross Grain Brewhouse;
Harvest & Grounds.
Shops and Stores
There are multiple press stores and retail shops to spend waiting time:
CNBC;
The Body Shop;
A Day At the Beach;
Broward Duty-Free 4G;
Bijoux Terner;
The Lego Store FLL.
Additional Available Services
ATMs;
Check-in customs;
Prepaid phone cards;
Currency exchange;
Internet kiosk;
Cart Rental;
TSA-security;
WC areas;
Post stamping;
Mobile charging.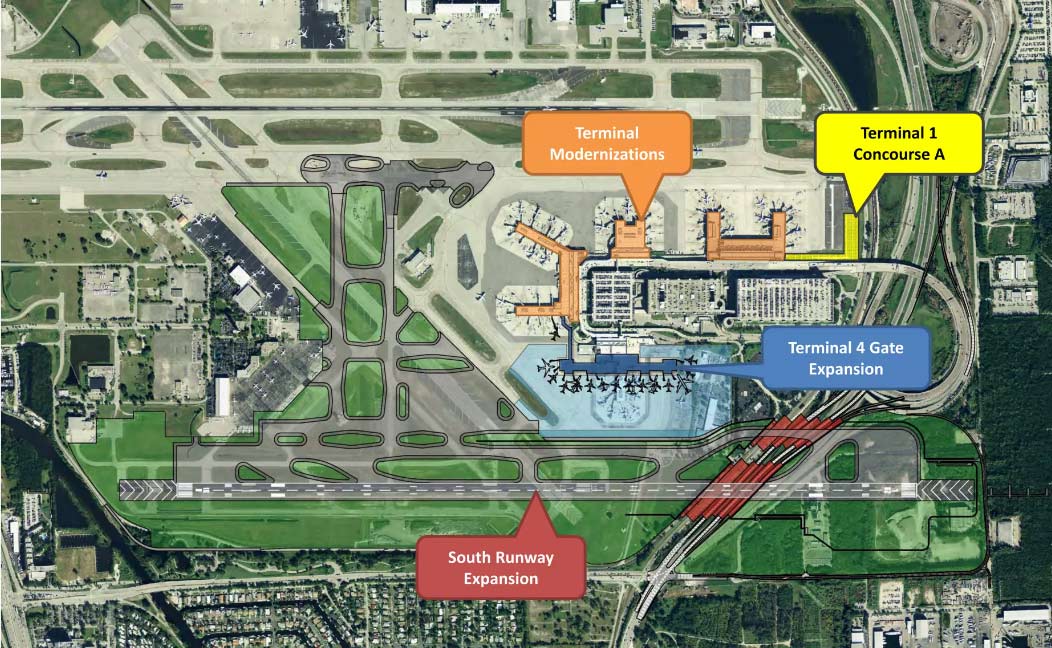 Lost & Found Office
From FLL terminal 4 passengers can take a shuttle bus to visit the Lost& Found Office to appeal in case of baggage or document loss.
The office is situated on the second level of the Rental area.
Open time: 8:30 am to 00:00 am; 01:00 am to 04:00 pm – Monday – Friday.
Closed: Saturday, Sunday, official holidays.
It is possible to contact the Office at the email: Airportlf@broward.org. The email must contain the following information: Passenger's Name, Phone Number, Date of Item Loss, Location of Item's Last Place, and Description of Lost Item.
Additional Information
All devices can be connected to free Wi-Fi inside all halls.
The baby facilities are located near the G8 gate.
There is no smoking zone within Terminal 4.
Customs departments work from 3:45 am till midnight.
Passengers who are enrolled in the Global Entry program can use special kiosks to proceed with the enrollment. Service hours: 5 am- midnight.
Passengers can use the prebuilt-in bridge to walk to Terminal 4 from Terminal 3 without additional check-ups. The service is available only for domestic flights.