Fort Lauderdale airport Lounges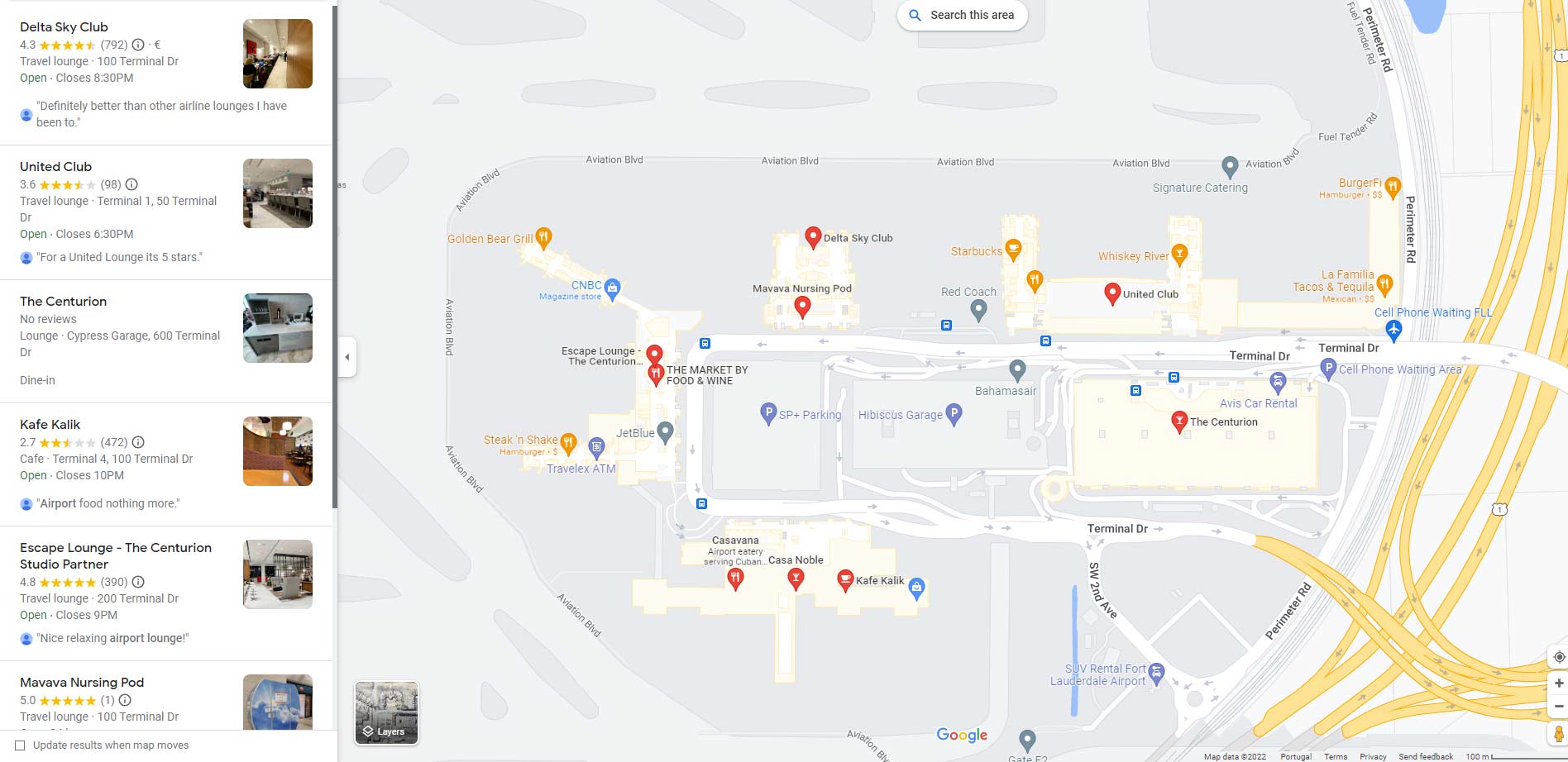 FLL airport is famous for its comfortable lounge zones, where passengers can take their time to rest, deal with business issues and have a great snack time before departure.
Two of four lounges were initiated by the airline companies that reside in the airport and provide the best service for its visitors.
Terminal 1 Lounge
United Airlines United Club provides a comfortable lounge and additional services for passengers departing from or arriving in Terminal 1, Gates C1 – C9.
Passengers can enjoy the following free services:
Snacks;
Beer and wine;
Wi-Fi;
Newspapers and magazines;
Monitors;
Internet terminals;
Printer and copy machines;
Phones.
Service hours: 5:15 am– 7:45 pm (daily)
To get access to this lounge, one must possess a membership of United Club or buy a one-time pass. It also requires showing the flight boarding pass to enter the lounge.
When space is available for taking in more visitors, this lounge accepts guests with payment at the door. One-time passes can be purchased at the door administrator or at the United App. The rate is $59 per person.
To get more information about this lounge, it is recommended to call the following number: +1 866-822-5827
Terminal 2 Lounge
Delta Airlines provides passengers with a lounge, where one can find food, drinks, TV, Wi-Fi, gadgets, and equipment to deal with business issues.
To enter Delta Sky Club lounge in FLL airport, one can be a membership card holder, buy a one-day pass or pay the administrator at the entrance.
The lounge is located at the main Atrium between Gates D2 and D3.
Service hours: 4:15 am – 7:30 pm.
Services to use in the lounge:
– Air Conditioner;
– Alcohol drinks and non-alcoholic;
– Flight Information Monitor;
– Wi-Fi;
– Mobile Charging Outlets;
– Newspapers/Magazines;
– Telephone;
– Television;
– Printer, copy machine.
Available membership programs include:
Individual one-year membership at a monthly cost of $50 or annual cost of $545.
Executive membership with a monthly payment cost of $75 or annual payment of $845.
If a passenger bought a ticket for Delta One or SkyTeam Premium and Elite Plus Cabin, then he has an access to the lounge.
Terminal 3 Lounge
FLL Terminal 3 has a comfortable lounge to take a rest.
Escape Lounge from the Centurion Studio is open daily and has an entry fee of $40-45 per person.
Escape lounge is the newest one with 5000 square feet of available space. It is located along the connector walkways between gates E and F. Lounge can be easily used by travelers from different airlines that arrive or depart from Terminal 4.
Available services:
Private workspaces;
Shower suites;
Conference rooms;
Outlets;
Reading space;
Children's activity area;
Cuisine from famous chef Laurent Tourondel;
Wide drinks menu.
Service hours: 5:30 am – 9:00 pm (daily).
How to access:
Amex Platinum cardholders;
Delta SkyMiles reserve card holders;
Access can be booked beforehand at $40 or paid at the door at $45.
Terminal 4 Lounge
Kafe Kalik is located near Gate G6. Initially, it was a restaurant, but it was developed into a small service lounge with Caribbean cuisine.
Opening hours: 10:00 am – 8:00 pm (daily).
Services to enjoy:
TV;
Air conditioning;
Flight monitors;
Food and drinks.
Priority Pass is a special program that provides travelers with comfortable lounge sits in airports or restaurants that count over 1300 places. Benefits include access to food, conference rooms, showers, and SPA.
The Priority Pass can be ordered online or contacted by phone. There are three types of Passes to choose from according to travel quantity at $ 99, 329, and 469 annual fees.
Airport lounge Fort Lauderdale service is rated highly by passengers and is worth taking a good rest before the flight.