Terminal 1 Fort Lauderdale Airport map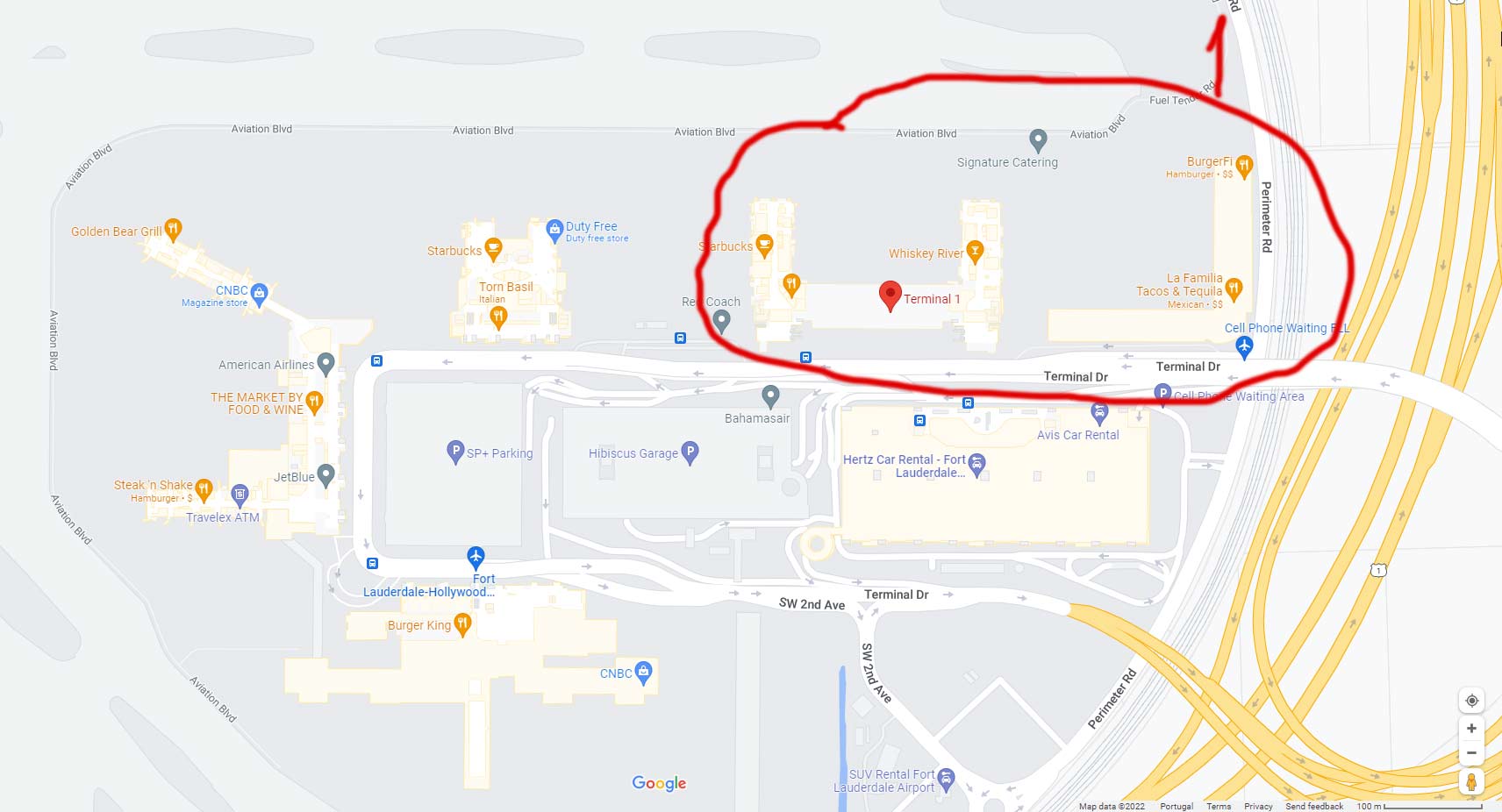 Fort Lauderdale-Hollywood International Airport Terminal 1 accepts both international and domestic airlines and is known as the New Terminal. The color code according to the scheme is Yellow color. It is located at the east end of FLL building.
Terminal 1 hosts offices of FedEx Express, Alaska, Direct, and United Airlines.
The overall capacity of Fort Lauderdale Airport terminal 1 ensures the work of 23 boarding gates and hosts three Concourses: A, B, and C.
Concourses
All three concourses have their functions and host different departments.
Concourse A
It consists of A1 to A7 boarding gates.
It hosts mainly international airlines, but 5 gates serve both international and domestic flights.
Concourse B
It consists of B2 to B9 boarding gates.
It is the heart of the Business Center area.
Concourse C
It consists of C1 to C9 boarding gates.,
The area hosts the Concession Hall and the post-security department of the Business Center.
The clear and detailed layout of all areas can be checked on the FLL terminal 1 map.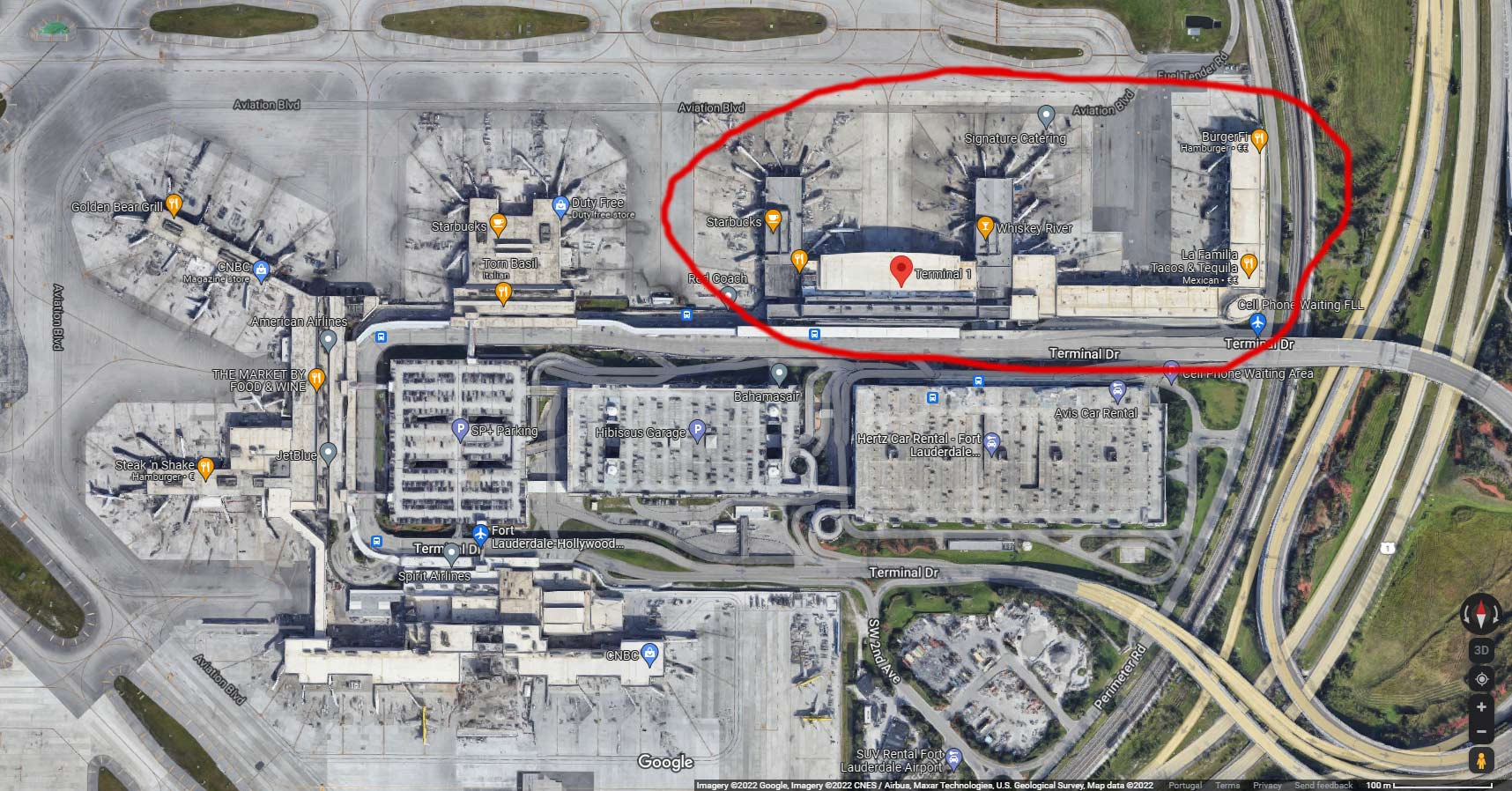 Terminal Levels
FLL terminal 1 is designed with 3 levels.
Level 1
Arrival hall. There are 3 baggage claim areas within Concourse B and C side.
Level 2
Departure hall, ticketing. The level has separate checkpoint security located on the west side of Concourse C and the east side of Concourses A and B.
Level 3
Level 3 is the home for airlines office premises and additional services such as lounges and stores.
Baggage Wrapping and Storage
Terminal 1 has an area for the baggage wrapping service. Before the flight departure, passengers can wrap their luggage just for $15.00 for 1 bag.
Service hours: 06:00 am to 03:00 pm (daily).
For further information, passengers can contact an airport department: +1 954-359-5505.
The baggage storage department is located at the Baggage Claim area. Service hours: 09:00 am to 05:30 pm (daily).
Transfer between Terminals
All passengers can find Courtesy Shuttles to move from Terminal 1 to each of the terminals and towards the Rental Car Center.
The shuttle bus parking lot is located at the lower level.
Service hours:
Shuttles between terminals – 6 am to 9 pm (daily)
Shuttles between terminals and Rental Car Center – 24/7.
Restaurants and Food
Terminal 1 offers a wide range of food restaurants and food shops to enjoy before departure.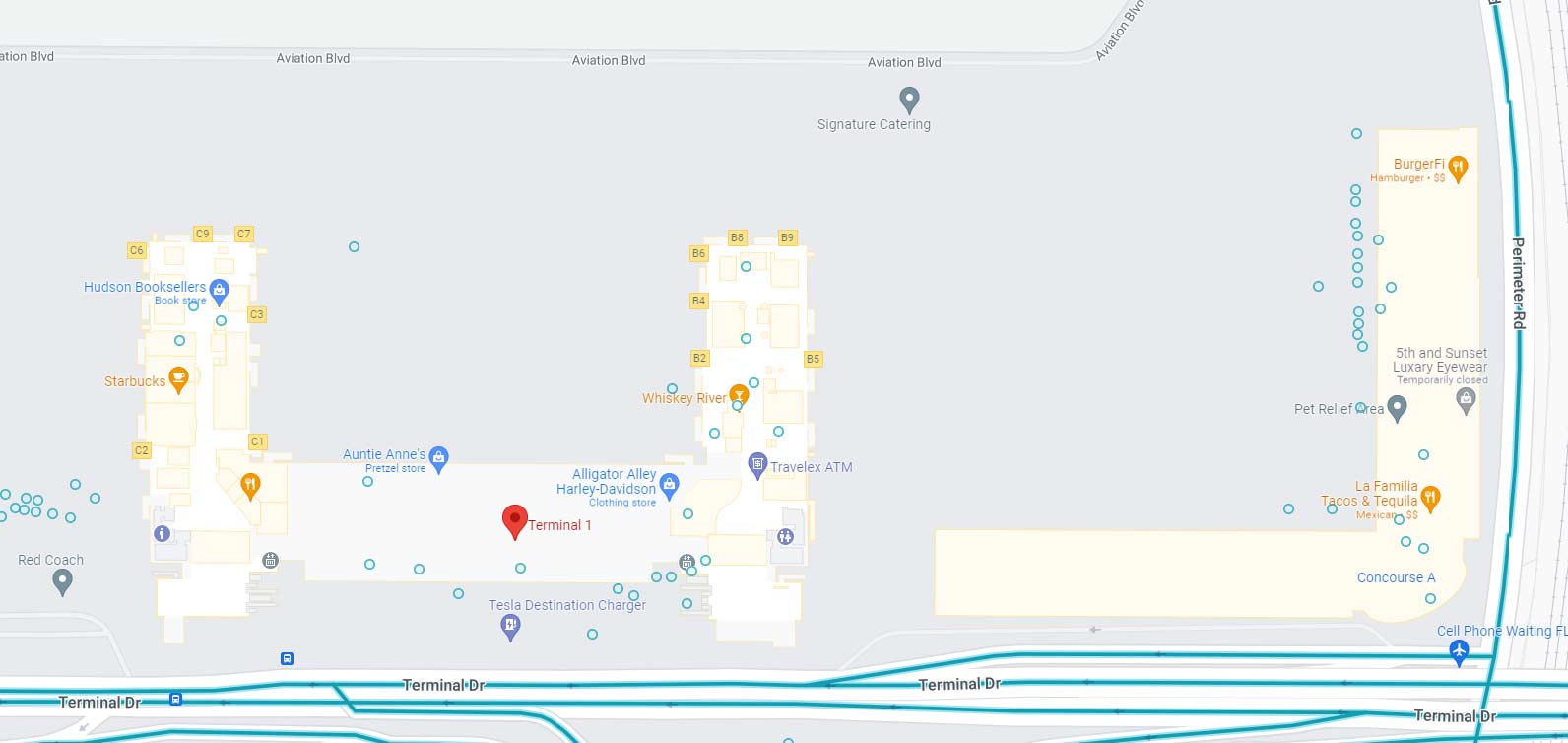 Concourse C area is a host for:
Starbucks;
Shula Burger;
Rocco's tacos;
Offerdahl's Off-The-Grill;
Air Margaritaville;
Auntie Anne's.
Concourse A hosts:
La Familia Tacos& Tequila;
BurgerFi.
Shops and Stores
Passengers can buy different souvenirs and necessity items at the following stores:
CNN post;
Hudson Booksellers;
Alligator Alley Harley-Davidson;
5th Sunset;
Techonthego.
Lounge Zone
United Airlines United Club provides a comfortable lounge and additional services such as food, drinks, Wi-Fi, and newspapers.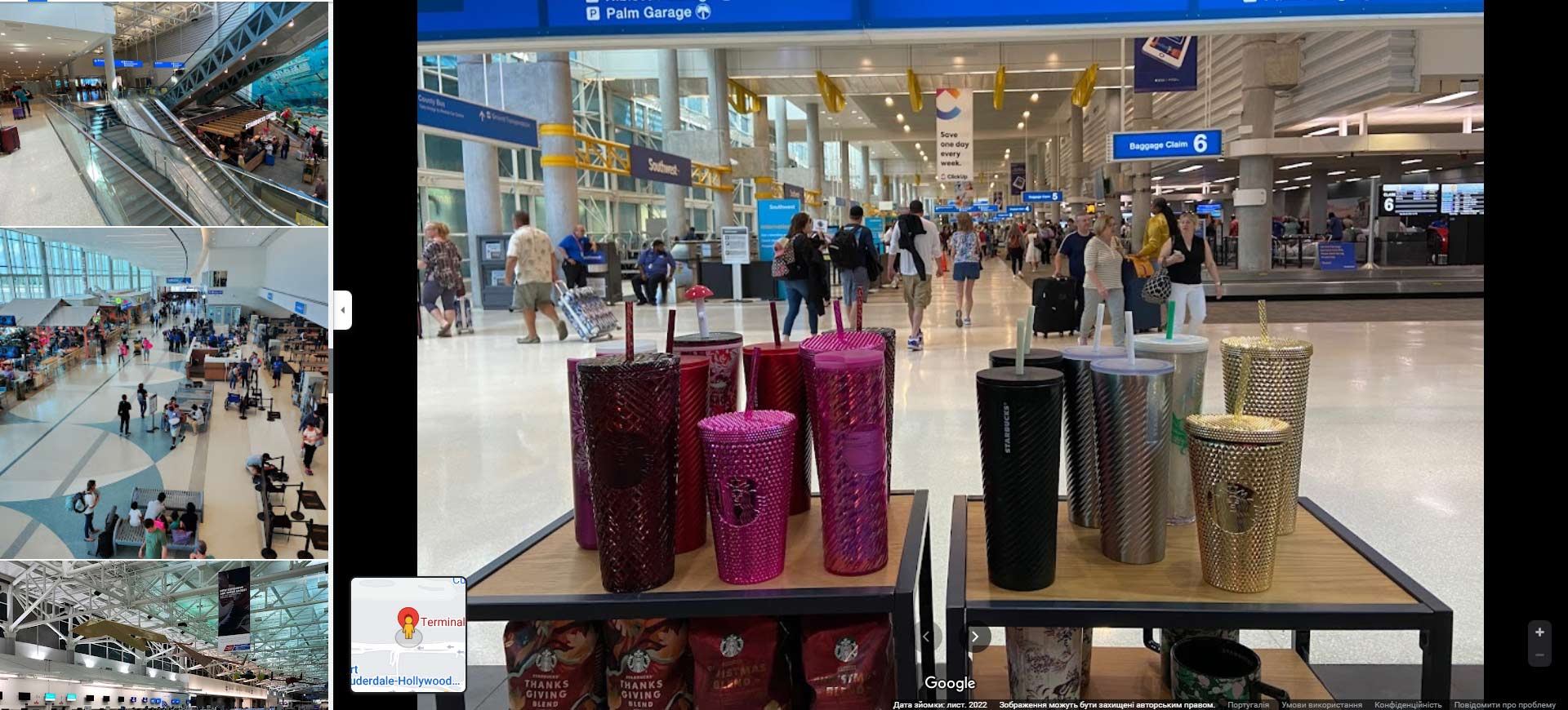 Lost & Found Office
From FLL terminal 1 it is convenient to visit Lost& Found Office to appeal to in case of baggage or document loss.
The office is situated on the second level of Rental area.
Open time: 8:30 am to 00:00 am; 01:00 am to 04:00 pm – Monday – Friday.
Closed: Saturday, Sunday, official holidays.
It is possible to contact the Office at the email: Airportlf@broward.org. The email must contain the following information: Passenger's Name, Phone Number, Date of Item Loss, Location of Item's Last Place, and Description of Lost Item.
Additional Available Services
Pet relief zone;
ATMs;
Tesla destination charger;
Currency exchange;
Baggage Carts;
WC areas;
Medical services;
Mobile charging
Additional Information
Wi-Fi is available inside the Terminal premises.
There is no smoking zone within Terminal 1.
Terminal 1 is independent and doesn't have a connection to the rest of the terminals.
There is a climbing area dedicated to the children's play in the shape of a cloud.
For the detailed location of services, foods, and other premises, it is recommended to check the Fort Lauderdale airport terminal 1 map.