Terminal 2 Fort Lauderdale Airport map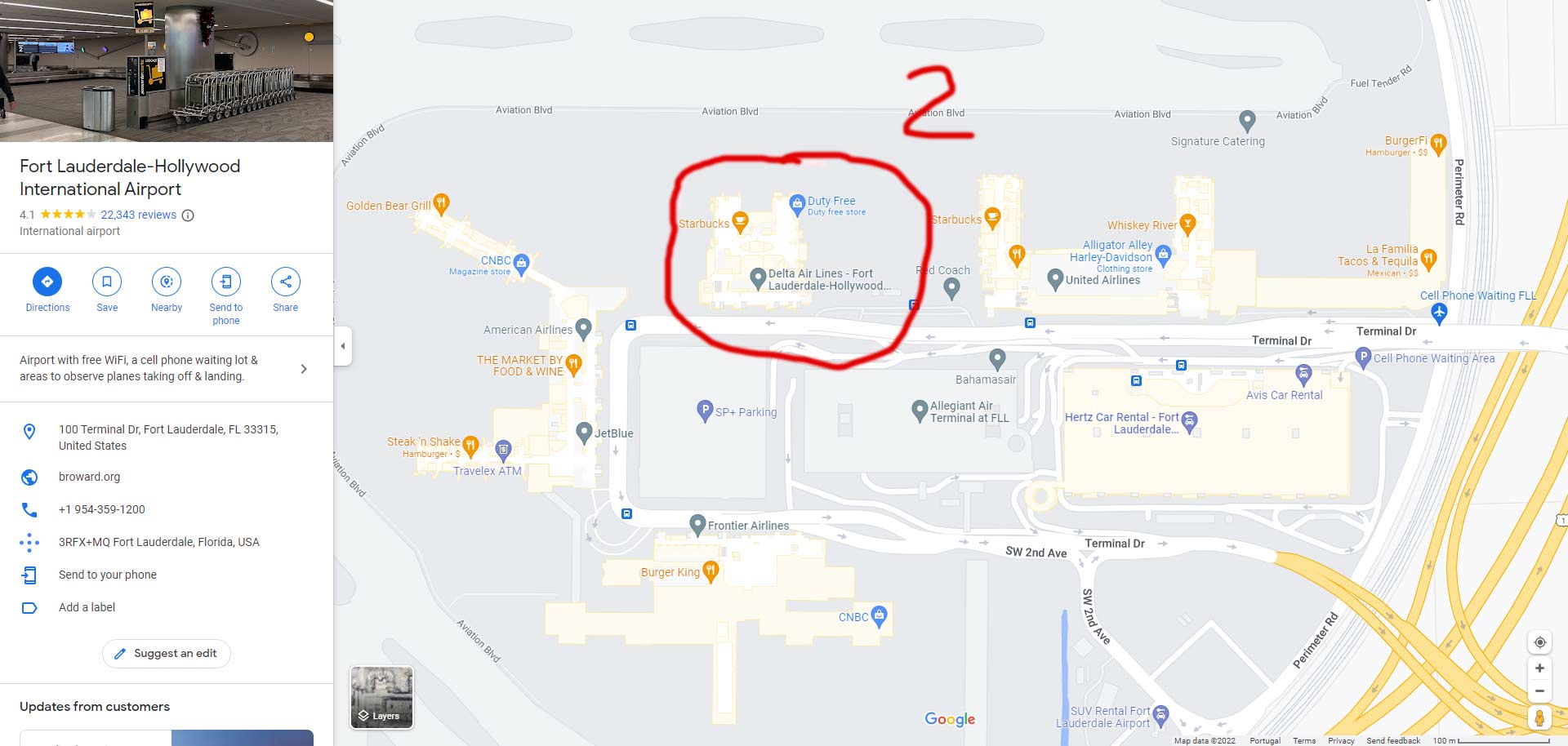 Fort Lauderdale Airport Terminal 2 is located towards the northwest side of the airport and is a separate building next to the parking garages. It carries the color code Red and sometimes is called Delta.
The Delta terminal of Fort Lauderdale airport has several unique points. It is a building only for Concourse D and accepts aircraft only from Delta and Air Canada Airlines.
Concourse D counts for D1-D9 boarding gates.
Delta hosts the Delta Sky Club area for their passengers near the D5 and D6 gates.
Air Canada is located in the south part of the terminal.
FLL terminal 2 is designed with 2 levels.
The first level corresponds to the Arrivals and Baggage Claim areas.
The second level corresponds to the Departure hall and the Check-In areas.
The more detailed location of each area can be found on the FLL terminal 2 map.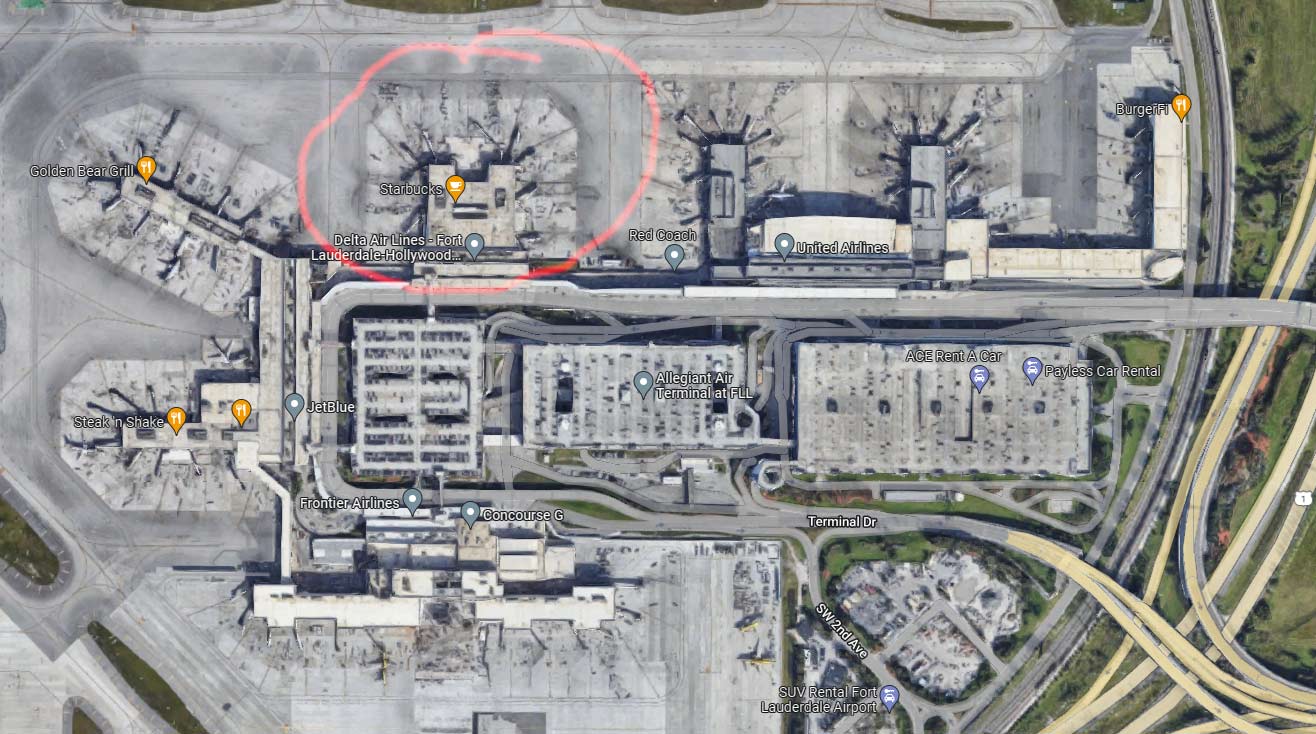 Baggage Wrapping and Storage
For passengers who want to secure their bags, there is an area for the baggage wrapping service. Before the flight departure, passengers can wrap their luggage just for $15.00 for 1 bag.
Service hours: 06:00 am to 03:00 pm (daily).
For further information, passengers can contact an airport department: +1 954-359-5505.
The baggage storage department is located next to the Business Center. Service hours: 09:00 am to 05:30 pm (daily).
Transfer between Terminals
All passengers can find shuttles to move from Terminal to each of the buildings and towards the Rental Car Center.
The shuttle bus parking lot is located at the lower level.
Service hours:
Shuttles between terminals – 6 am to 9 pm (daily)
Shuttles between terminals and Rental Car Center – 24/7.
The Garage Tram is available from the lower level of the Palm and Hibiscus parking lots. Tram operates 24/7.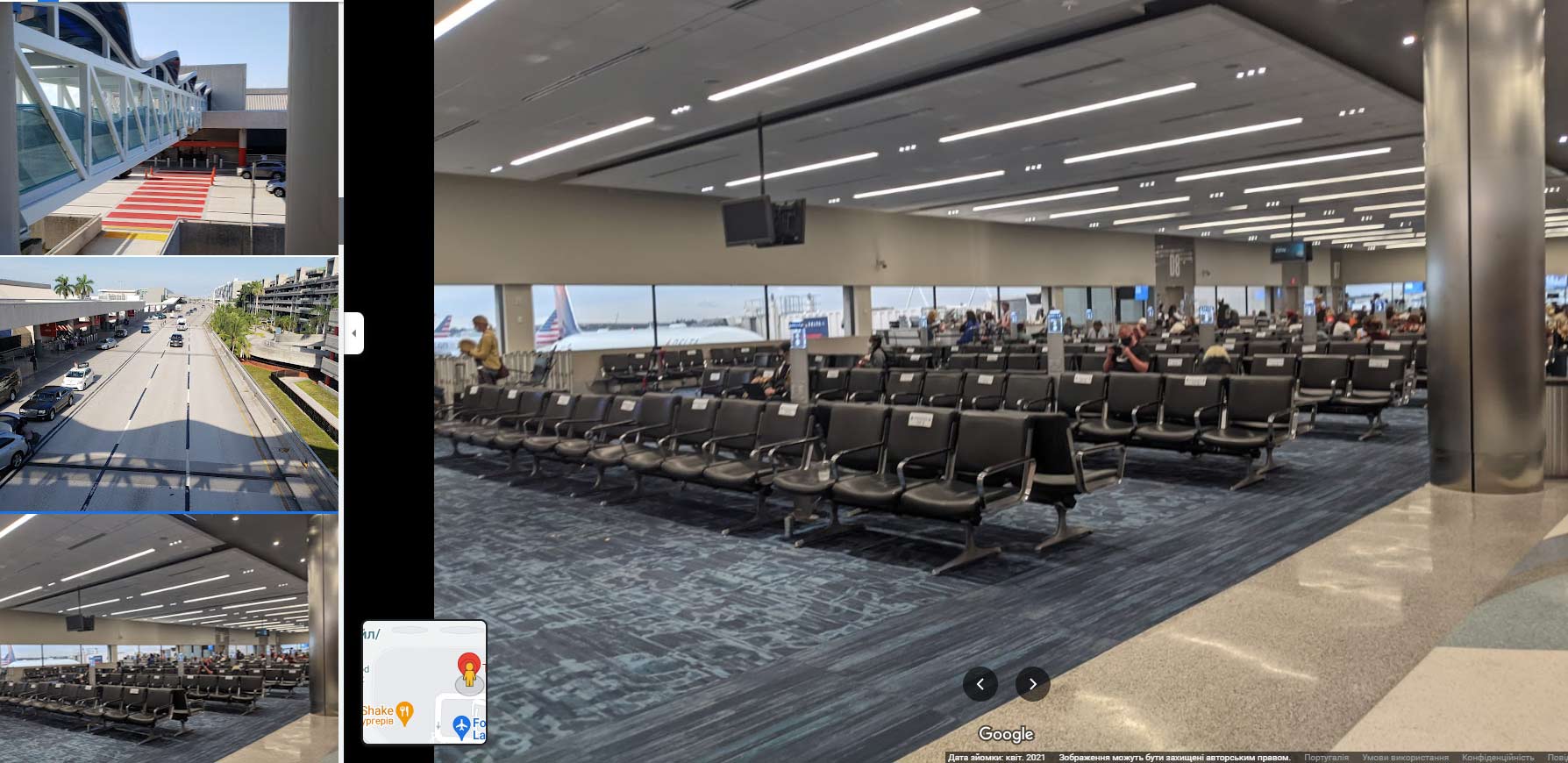 Restaurants and Food
Terminal 2 offers a variety of restaurants and food shops to have a snack before the flight:
Flash Fire Pizza;
Torn Basil;
Shake Shack;
Umaizushi;
Starbucks.
Shops and Stores
Passengers can spend time visiting press stores and retailers:
NewsLink;
Art Gallery;
Duty-Free ( located by D3 gates);
Hudson Booksellers.
Business Center
The Center provides fast access to the nest services:
Phone cards;
Mail delivery;
Documents print and copy;
Fax;
Currency exchange;
Stamping;
Money wire and ATM.
Service hours: 08:00 am to 05:00 pm (daily). For any details, it is recommended to contact the department: 954-359-7610.
Lounge Zone
Delta Airlines provides passengers with a lounge, where one can find food, drinks, TV, Wi-Fi, and printers.
Additional Available Services
ATMs;
Money wire;
Urban market;
Currency exchange;
Shoe Shine Stand;
Cart Rental;
WC areas;
Medical services;
Mobile charging.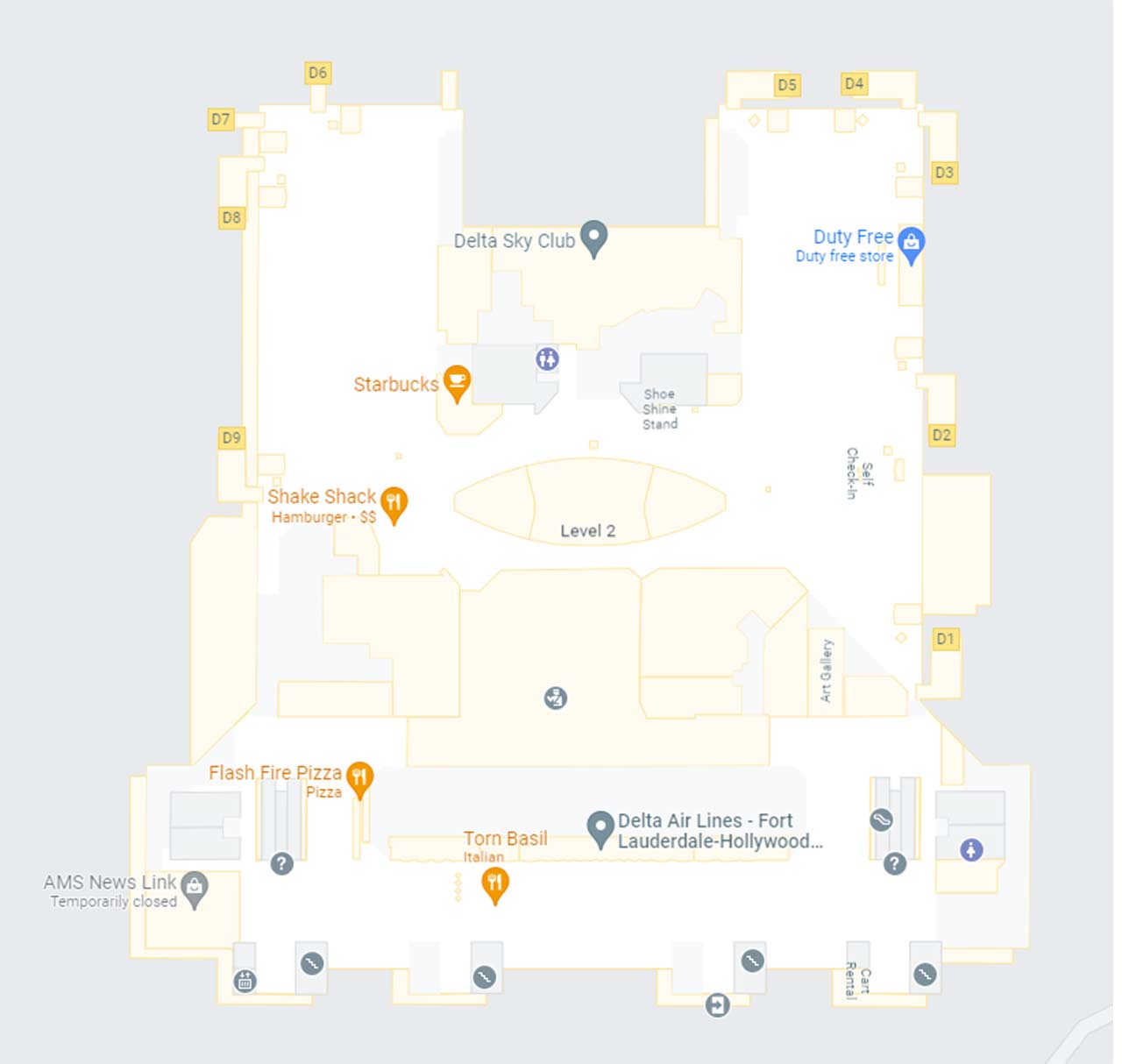 Lost & Found Office
From FLL terminal 2 passengers need to take a shuttle bus to visit the Lost& Found Office to appeal in case of baggage or document loss.
The office is situated on the second level of the Rental area.
Open time: 8:30 am to 00:00 am; 01:00 am to 04:00 pm – Monday – Friday.
Closed: Saturday, Sunday, official holidays.
It is possible to contact the Office at the email: Airportlf@broward.org. The email must contain the following information: Passenger's Name, Phone Number, Date of Item Loss, Location of Item's Last Place, and Description of Lost Item.
Additional Information
Wi-Fi is available inside the Terminal premises.
There is no smoking zone within Terminal 2.
It had a creative engineering renovation with a new mezzanine and grand space. The reconstruction was carried on while the premise was still working for passengers. The expansion was held in the vertical direction with a new architectural design.
Terminal 2 is independent and doesn't have a connection to the rest of the buildings.
For the detailed location of all services, foods, and other checkpoints please refer to the map.