Parking Fort Lauderdale Airport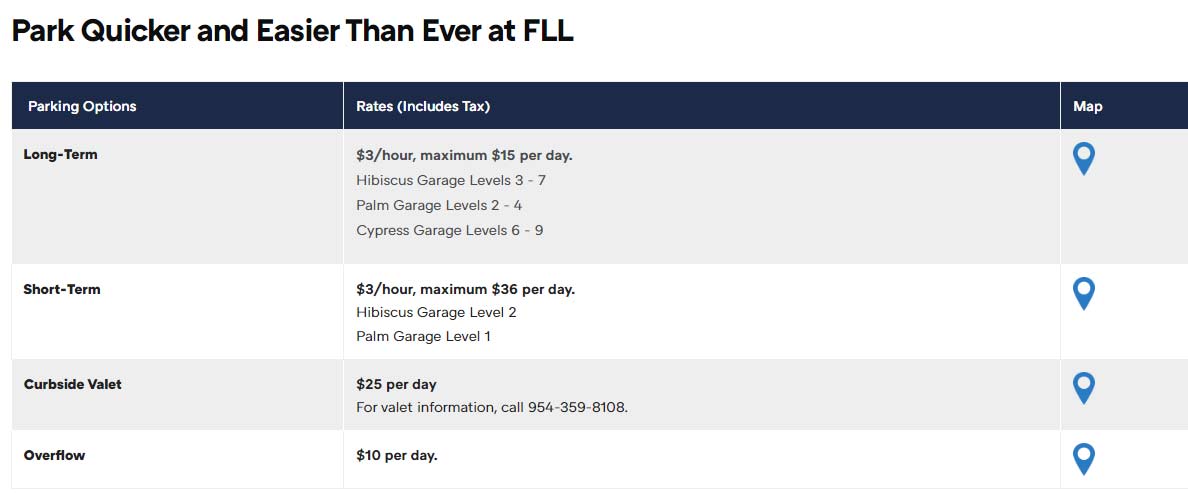 FLL airport has special prebuilt garages alongside terminal buildings to provide options for parking own transport or transport mode that arrives to pick up passengers.
To get a clear location of the available parking lots, it is recommended to look at the Fort Lauderdale airport parking map.
There is long-term parking at Fort Lauderdale airport which is represented by the Hibiscus Garage, Palm, and Cypress Garages.
Hibiscus Garage
Hibiscus complex is connected to building 1. Parking lots are available from levels 3 to 7 within the whole garage. The complex has more than 12000 spaces for all types of parking. The territory is secured by the patrols.
To find a necessary space, it is recommended to follow the color-coded signs.
There are two types of fares:
Hourly – $3;
24 hours – $15.
For additional information about parking, visitors can call the following number: +1 954-359-0200.

Palm Garage
Palm complex is connected to Terminals 2, 3, and 4. Parking lanes are available from levels 2 to level 4.
Fares are the same as for the Hibiscus complex:
Hourly – $3;
24 hours – $15.
If it's necessary to park near the Terminal 3 entrance which has two connections with the Palm Garage, it is recommended to check the FLL Terminal 3 parking map.
Cypress Garage
The Cypress complex was built in 2005 by the SP+ provider. Sometimes it is called an SP+ parking garage. It provides more than 6000 parking places with a rental center and a level for car fueling and repairing.
Parking lots are available from levels 6 to level 9.
Cypress complex provides services for electric vehicle charging, electric utility, and free shuttles to go downtown. It is one of the most eco-friendly parking spaces.
Fares range:
Hourly – $3;
24 hours – $15.
For short-term parking, passengers also can use services at Hibiscus (Level 2) and Palm Garages (Level 1).
The price range is:
Hourly – 3$;
24 hours – 36$.
Curbside Valet
The curbside valet parking is situated on the departure level of Terminal Drive.
Curbside Valet costs $25 per day.
Parking for DAV
FLL airport provides special parking lots for disabled veterans without a fee for up to 7 days.
Upon arrival at the airport, passengers should provide a DAV license plate to the cashier to use the privileges.
Courtesy Parking
It is available only for vehicles that:
1. Have a Florida Toll Exemption permit
2. Contain equipment used by a person who has a disability, such as foot or hand controls and ramps.
3. Subject to Aviation Department verification procedures.
FLL airport also has an overflow parking and a waiting area for motorcycles that are waiting for their passengers. The daily fare is $10.
Parking payment methods
Payment for parking can be done in several ways:
At the cashier booth.
The cashier booth accepts cash and credit cards (Visa, MasterCard, American Express, and Discover). It is recommended to use a booth type of payment in case an owner wants to get a check to pay, deal with a lost parking ticket, or is an owner of a vehicle to transport people with disabilities.
SunPass Plus.
This payment method is used for parking in Hibiscus Garage, Palm, and Cypress Garages.
To use it, the driver should choose the SunPass Plus lane while entering the parking facility and choose the SunPass Plus lane while exiting.
This program will automatically charge all fees for parking.
Pay-on-foot terminal.
It is easy to pay for parking with cash or credit cards (MasterCard, Visa, American Express, Discover, and Diner's Club) at available terminals of Palm and Hibiscus Garage.
Pay Lane.
If a driver pays with a credit card at the pay-on-foot terminal, he will be able to use the self-service prepaid lane. To use the service, it is necessary to insert the ticket, and then insert a credit card. The terminal will return the card together with the receipt.