Terminal 3 map Fort Lauderdale Airport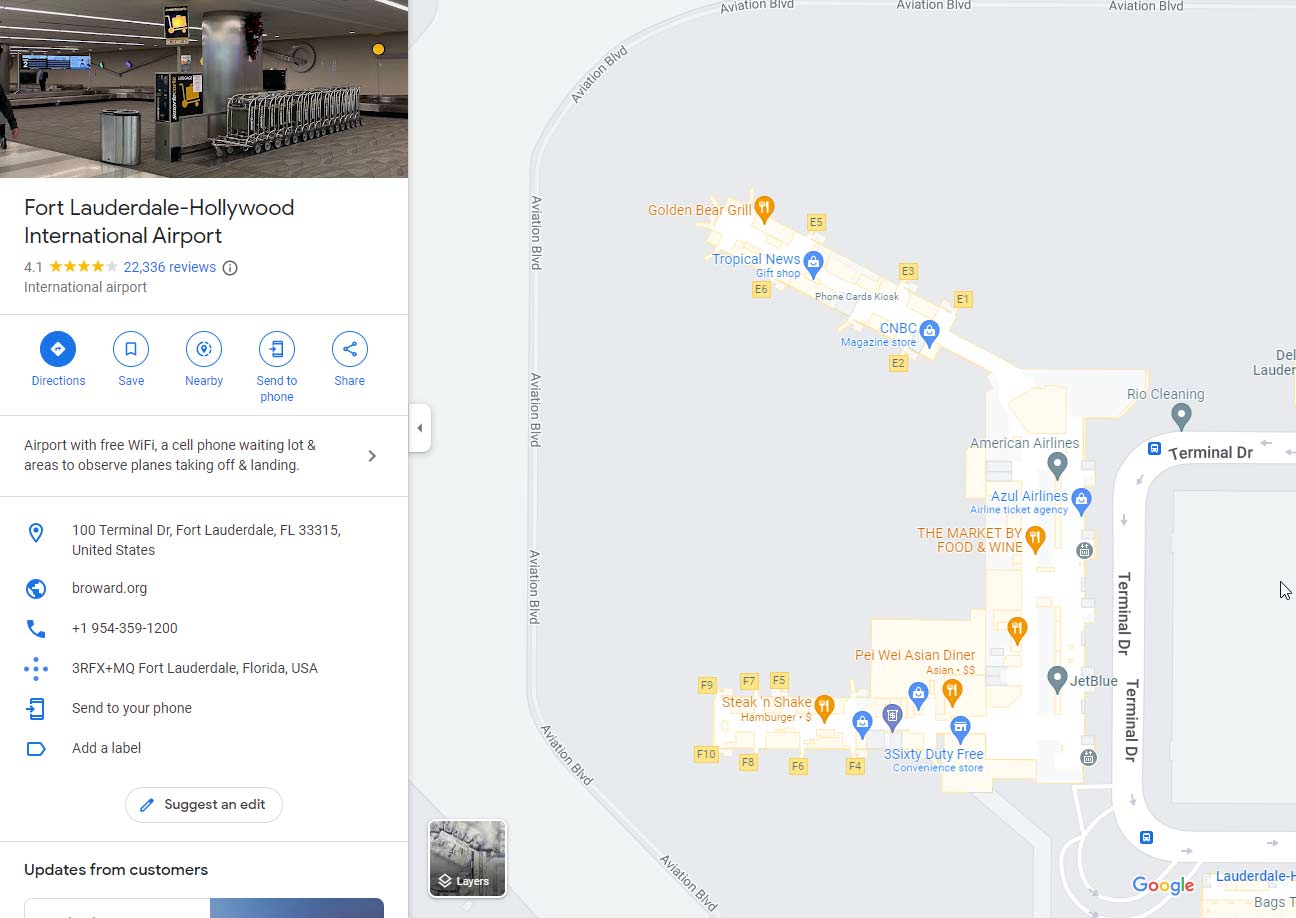 FLL Airport Terminal 3 is located on the western side of the territory facing the main air roads. It is often referred to as the Main Terminal with a Purple color code.
It is a host building for Azul, American, and JetBlue Airlines and is divided into two Concourses: E and F.
Concourse E consists of gates under numbers E1-E10.
Concourse F consists of the same gate quantity from F1 to F10.
Additionally, the building is equipped with a connecting bridge that leads to Terminal 4. Inside the FLL terminal 3, passengers should pass Customs facilities.
The building is designed with two levels.
The first level responds to Arrivals and Baggage claims procedures. There are six claim areas with two special administration desks.
The second level responds to Departures Check-In procedures.
The more detailed location of each area can be found on the Fort Lauderdale airport map terminal 3.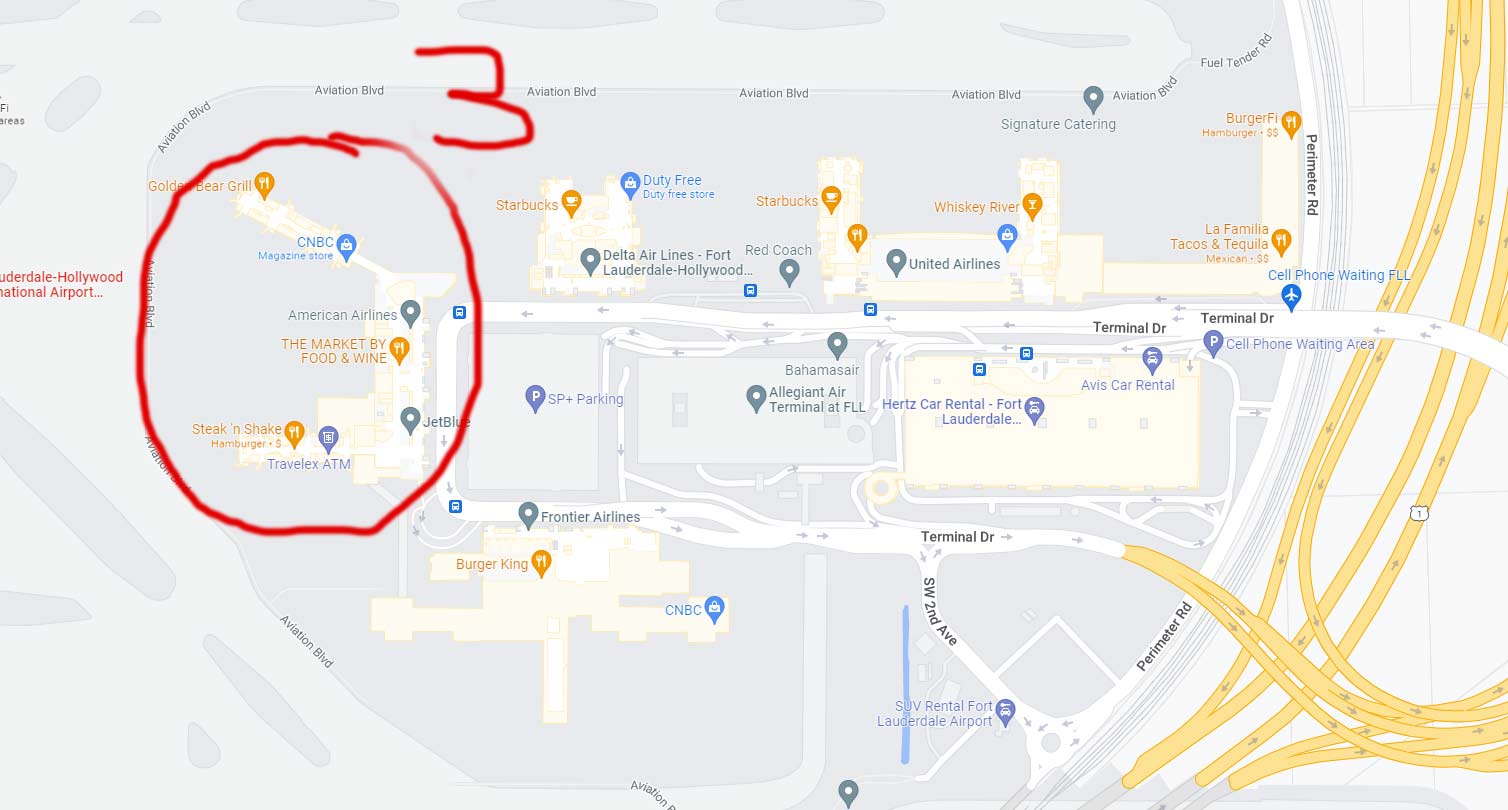 Baggage Wrapping and Storage
For passengers who want to secure their bags, there is an area for the baggage wrapping service. Before the flight departure, passengers can wrap their luggage just for $15.00 for 1 bag.
Service hours: 05:00 am to 09:00 pm (daily).
For further information, passengers can contact an airport department: +1 954-359-5505.
The baggage storage department is located at the lower level of the Claim department.
Service hours: 09:00 am to 05:30 pm (daily).
Transfer between Terminals
All passengers can find shuttles to move from the Terminal to each of the buildings and towards the Rental Car Center.
The shuttle bus parking lot is located at the lower level.
Service hours:
Shuttles between terminals – 6 am to 9 pm (daily)
Shuttles between terminals and Rental Car Center – 24/7.
The Garage Tram is available from the lower level of the Palm and Hibiscus parking lots. Tram operates 24/7.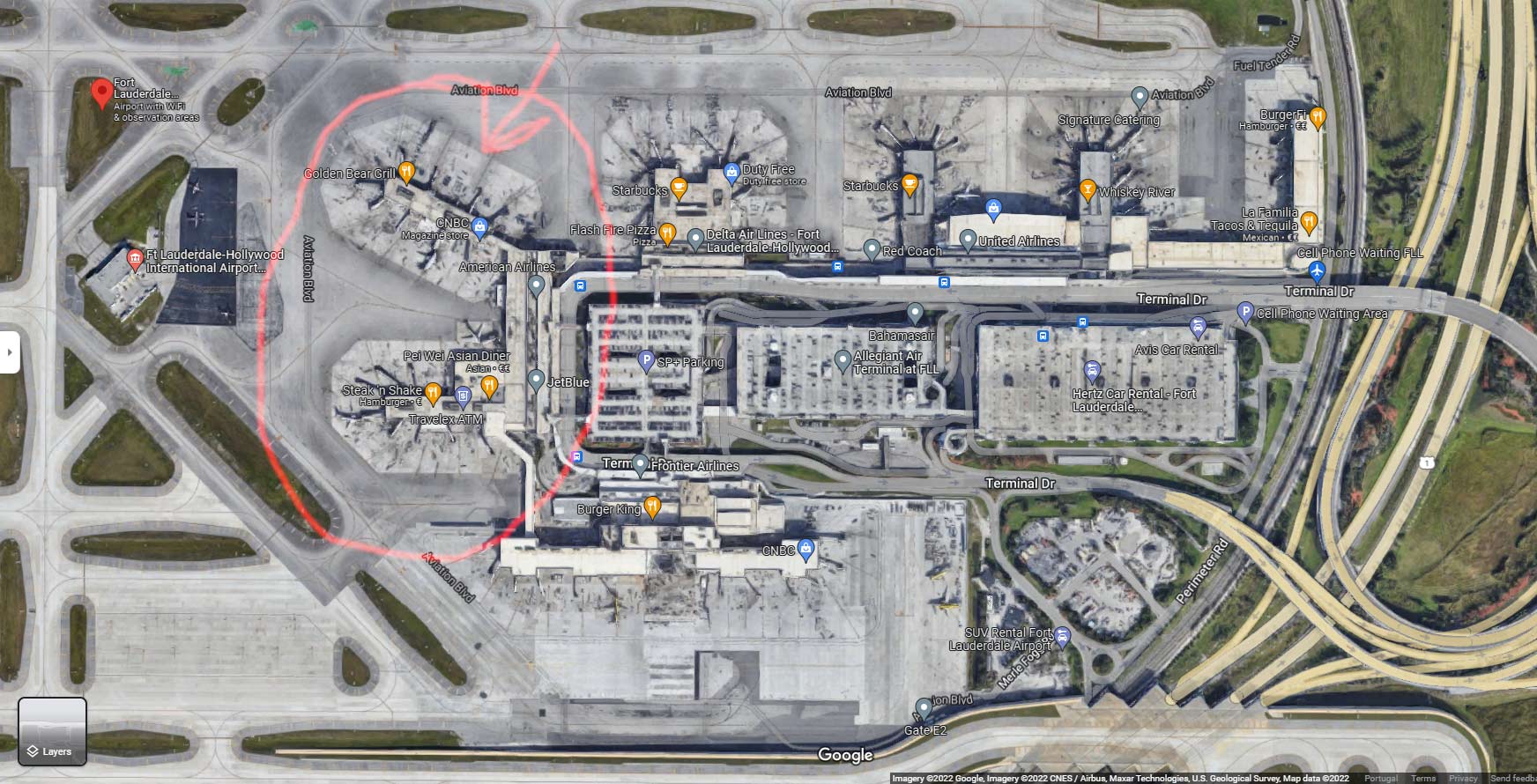 Restaurants and Food
Terminal 3 locates a variety of multinational restaurants and food shops to have a snack for people with different taste preferences:
Golden Bear Grill;
Harvest and Grounds;
The Markey by Food & Wine;
Bokampers Sports;
Corona Extra Beach Bar;
Einstein Bros. Bagels;
Steak'n Shake;
Pei Wei Asian Diner;
Oceanside Marketplace;
Aroma Market;
Chef Allen's 2 Go.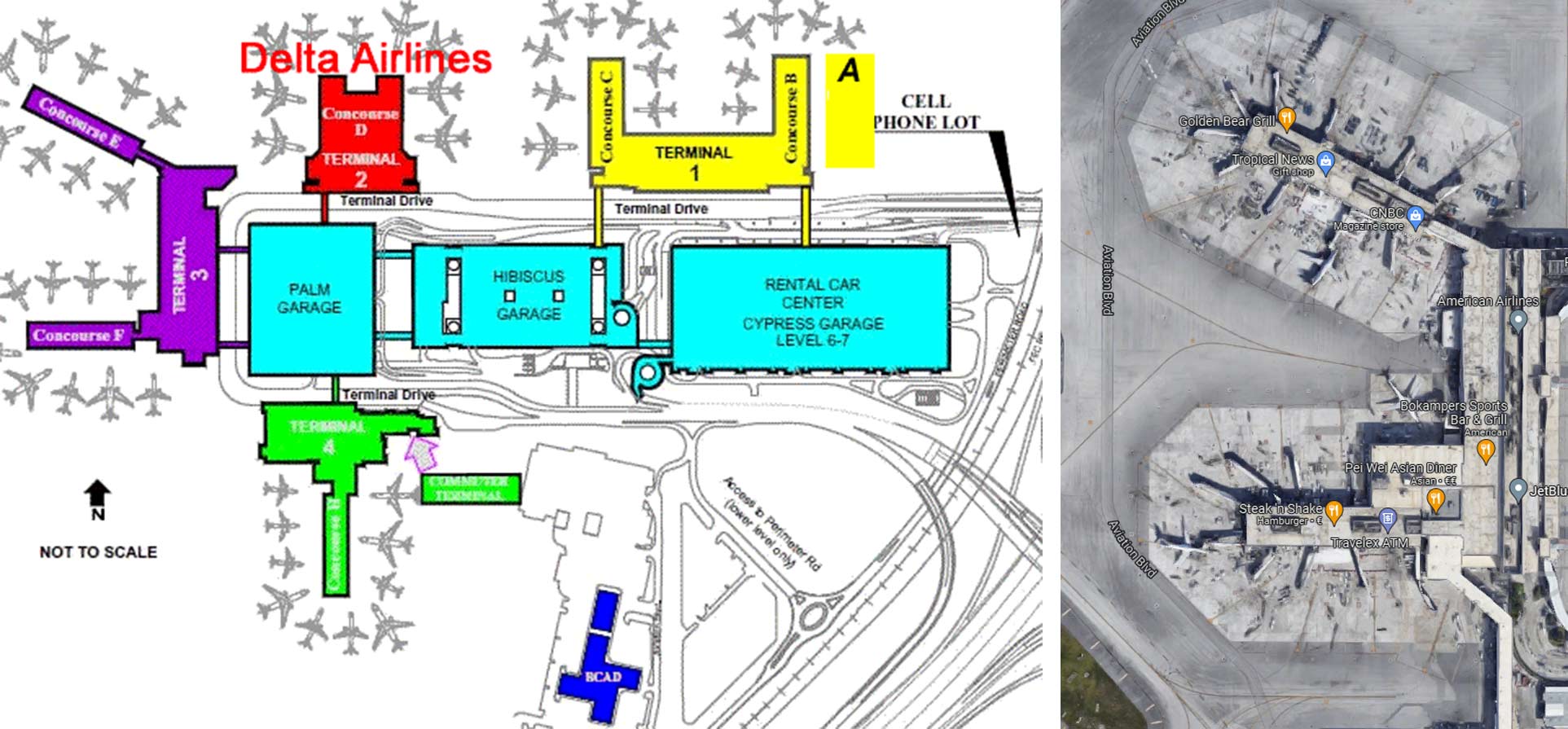 Shops and Stores
There are multiple press stores and retail shops to spend waiting time:
Tropical News;
CNBC;
3Sixty Duty-Free;
Broward Duty-Free (section F);
New River News.
Additional Available Services
ATMs;
Money wire;
Phone cards kiosk;
Currency exchange;
Internet kiosk;
Cart Rental;
WC areas;
Medical services;
Mobile charging.
Lounges
FLL Terminal 3 has two comfortable lounges to take a rest.
Escape Lounge and Centurion Studio are open daily and have an entry fee of $45 per person.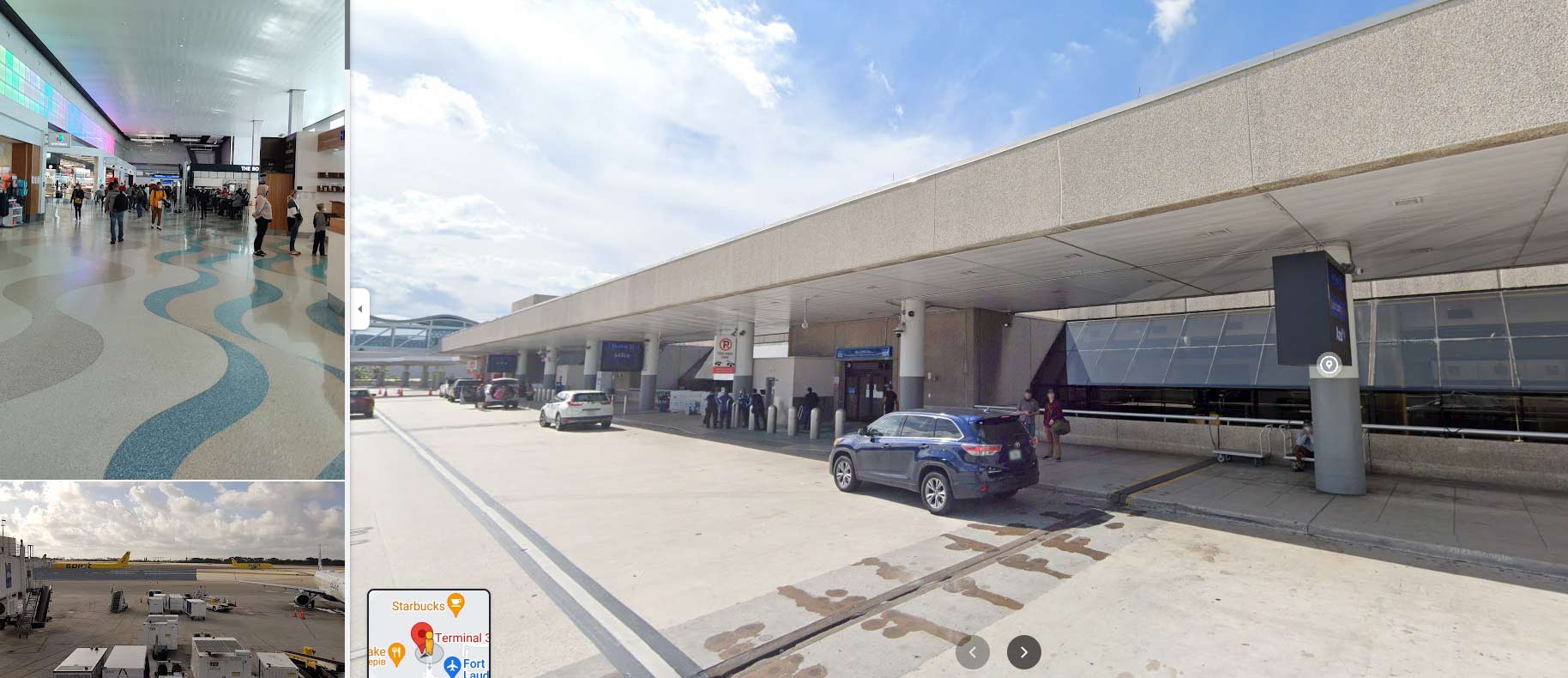 Lost & Found Office
From FLL terminal 3 passengers can take a shuttle bus to visit the Lost& Found Office to appeal in case of baggage or document loss.
The office is situated on the second level of the Rental area.
Open time: 8:30 am to 00:00 am; 01:00 am to 04:00 pm – Monday – Friday.
Closed: Saturday, Sunday, official holidays.
It is possible to contact the Office at the email: Airportlf@broward.org. The email must contain the following information: Passenger's Name, Phone Number, Date of Item Loss, Location of Item's Last Place, and Description of Lost Item.
Additional Information
All devices can be connected to free Wi-Fi inside all halls.
There is no smoking zone within Terminal 3.
Terminal 3 of Fort Lauderdale has two nursing pods that can be used with a help of Mamava app. They can be found near the security checkpoints.
Passengers may find a prayer room in the south part of the building.
The post-security corridor is called Las Olas and hosts vast concession spaces with a VIP lounge.
Passengers can use the prebuilt-in bridge to walk to Terminal 4 without a security double check (only for domestic flights).